Post by sitbone on Jul 31, 2018 16:57:57 GMT -5
another anime typing, sorry for those who hate anime and want to see more live-action fictional typings. i don't even watch much anime, but typing characters played by real faces is tricky, i usually just end up conflating them (although directors/casting people seem to pick up on the overlaps in type between characters and actors anyway, as was noted earlier in this thread. Likewise, animators seem to pick up on vultology without having a formal understanding of it... e.g.) that gamma bitch face below

(VIDEO CLIPS AT END OF POST)
Major General Olivier Armstrong: TeNi-Te (unseelie)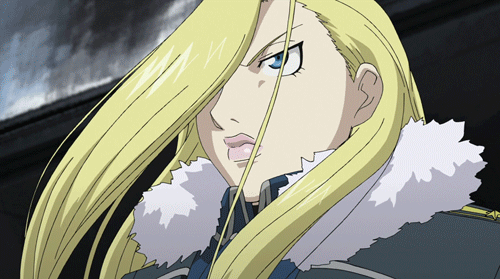 Olivier Mira Armstrong (from
Fullmetal Alchemist: Brotherhood
), nicknamed "The Ice Queen" and "The Northern Wall of Briggs" is an armored tank. She's a steely, no-bullshit, outcome-oriented leader. As with any type, there are many forms the TeNi can take, but this icy, militant shade is probably the most iconic. These are the TeNi that happen to be ENTJ, or at least INTJ if extroversion is defined in social terms.
Starting just with her name, Olivier is a man's name (first hint at her masculinity). Turns out it's the French adaptation of an old German name meaning "elf
army
" (second hint: militaristic?)
…I should mention the series draws parallels to pre-Nazi/Nazi Germany (or more generally post-industrial-revolution Europe). Amestris (the fictional nation in which the series is set) is governed by a sort of stratocracy, with the military holding supreme authority. The series in general has a lot to do with the logistical power of man and where its boundaries lie, the consequences of crossing them and why they exist—but that's another Eda conversation. I suspect the main protagonist in the series is also TeNi, but a different shade than Olivier…
Her middle name, Mira, apparently means
bitter
in Hebrew (third hint: unseelieness). And her last name, Armstrong couldn't be more literal (actually, like many characters in the series, her last name is a reference to a military vehicle used in WWII – a bomber plane in Armstrong's case – but the name still suits her character, TeNi are often gifted at strong-arming).
Olivier's character is similar to TeNi Police Chief Lin Beifong from
The Legend of Korra
. To get more specific than i should, Lin seems straight up l---, Olivier could be ll--. She has a tempered, contemplative, patient side i don't see as much in Lin. They're both commanding officers in their domain (Lin of an metropolitan police force, Olivier of an isolated military fortress). What's compelling about these two is how they are selfless and full of integrity while still maintaining the harsh, cold, commanding demeanor common to the unseelie TeNi. They are not warm or nurturing, sensitive or generous, but they both demonstrate a daring willingness to sacrifice themselves in the interest of protecting others or serving a greater system/entity than themselves. Te can be uncharacteristically humble in this regard – all its effort and drive and self-advancement is often rooted in an understanding (conscious or not) that we are inherently worthless. Te sees that we are only as valuable as what we can do. To justify its subject's existence, Te must produce, sustain, or destroy something greater than itself. Te (in isolation) sees the way to
divinity
(the mythological end-game of Judgment) as attainable through sheer logistical force. If it can master the natural world, learn the most effective methods, wield the most power, then it can govern its own fate, instill its own order – attain its specific form of
ascension
…or so it presumes.
Te, in my opinion, more than any other function, recognizes our inherent insignificance, which in turn makes it the most naturally ambitious function, compelled to build significance from scratch. It sees reality through a filter of utility, and in this sense, one who does not serve a greater purpose than oneself, contribute to something external, is a waste of energy. As Olivier says in the video below, "a man who does not work has no right to eat."
I'd say Olivier and Lin Beifong are both unseelie TeNi-Te portraits. They are ambitious. They need to be top dog; however, they do not seek positions of authority for titles or admiration. In fact, they both express disdain for praise and flattery, in a typically snippy and biting tone. They have no patience for ass-kissing. The reason they fill roles of authority is because they feel capable of doing so. They accept responsibility and see themselves as having the nerve and wits necessary to call the shots, rightly so. If they were real people, I'd also say that it comforts them to feel that no one holds their fate – that as top-dog in their domain, they are not at the mercy of a higher authority. They can be bossy, domineering, competitive, cold and insensitive, but they are not ultimately self-serving. Nor do they give themselves any more slack than they give the rest of the world. They recognize the harsh realities of life, suck it up and deal with them, and expect others to do the same.
Here's some good clips of Olivier (watch them in order, they're short...sorry the audio's a little off, i ripped some of these off netflix):

Olivier meets Ed:
drive.google.com/file/d/1TDtCiDYhlWzf6Bq0KnNLuu5tt0BPjKvK/view?usp=sharing
Olivier in Tunnel:
drive.google.com/file/d/1t_GGfNkIy7y1zMV6Hg1RBlWCbEqPexuh/view?usp=sharing
These last 3 go together:
Olivier Cons Raven:
drive.google.com/file/d/1zqMHGxBIWBSyv4aQzxeSHyIFU043F2Gl/view?usp=sharing
Olivier Cons Raven 2:
drive.google.com/file/d/1o9pJ03ZAtFo8kMfhyOcUW0kLRDHdVX_O/view?usp=sharing
Olivier Kills Raven:
I might come back and annotate what i'm seeing in each of these, but it should be pretty self-evident.